Photos 2011
Volcano Garden Arts
On the way back from the 5th Worldwide Okinawan Festival, I stopped off in Hawaii for the weekend.
Mom is a big fan of the Volcano Garden Arts, created in large part by artist Ira Ono.
This was the first time I visited, and I was mesmerized... enchanted... thrilled to see all the art pieces thoughtfully placed here and there to great effect.
I used to think that the Volcano Art Center was the main source of visual art in Volcano, but I had to change my mind about that.
| | | |
| --- | --- | --- |
| | | |
| You can have lunch in the greenhouse. It was chilly and overcast, though, so we didn't. But I bet it's a beautiful place to eat when it's warm and sunny | | The expansive lawn greets you as soon as you enter the grounds. There's a goat in a pen in the back. 3/4 size gaudily colorful Chinese statues to the right. I just love this place! |
| | | |
| --- | --- | --- |
| | | |
| I had to get close to this to make sure what I saw really were birdhouses. It immediately reminded me of Keith Carter's "Oak Tree" | | One of the enchanting things about this place is that it combines this beautiful outer worldly imagery with the lush tropical plant and flower shapes. |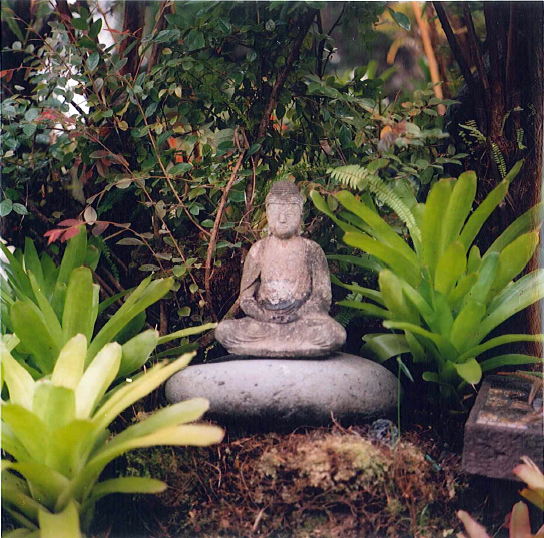 Buddhas are tucked everywhere at the Volcano Garden Arts
| | | |
| --- | --- | --- |
| | | |
| I couldn't help but think of all the work it takes to keep a garden like this going. Care and energy emanated from every corner of this space | | Small touches like the bright flowers in this wine barrel pond were everywhere |
---
Send comments, suggestions, or corrections to: olopua@gmail.com
All contents © Leanne Yanabu All rights reserved.
Last updated: November 16, 2011