Photos 2003
Cindy Irvine marries Dave Frankunas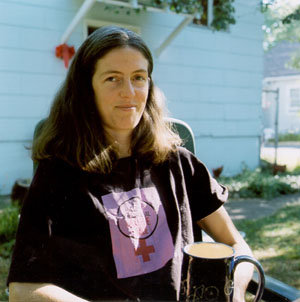 Cindy Irvine's birthday is one day before mine. We went through E. B. de Silva elementary school, Hilo Intermediate School, and Hilo High School together. Then she went on to Williams College and I went off to Haverford. But through the years, we've kept in touch with letters, phone calls, and visits. Now she lives in Portland and teaches yoga classes.

In July 2003, she got married to Dave Frankunas in Manzanita. a small town on the Oregon coast.
| | | |
| --- | --- | --- |
| | | |
| Dave is a lot like Cindy's dad: Tall, a bit quiet, but very sincere and good-hearted. | | They have a lush grape arbor in their backyard. It was a pleasure to sit, chat, and eat fresh summer food in the afternoon. |
Ellen Doudna also came to the wedding. She's a Hilo girl too, but she's living in Oakland now.

Cindy, busy making wedding arrangements: confirming deliveries, locations, guest arrival times, and food.

Ellen, Cindy's mom Sue Irvine, Cindy's friend Antonia, and Cindy's dad Robert Irvine, MD., on the porch at Cindy's house in Portland.
Cindy and Ellen in Manzanita.

Manzanita, Oregon
The first afternoon I was at Manzanita, the sky was reflecting golden and dazzling on the ocean water. I was glad to see the ocean again after so long. It was beautiful on the coast the whole weekend.

The wedding
The wedding site was high on the cliff above the beach.
The wedding party.

Moments later, it began to drizzle and we went to the Manzanita Community Center to begin the ceremony.
Cindy and Dave, happily married.
---
Send comments, suggestions, or corrections to: olopua@gmail.com
All contents © Leanne Yanabu All rights reserved.
Last updated: March 2, 2009