Photos 2004
I like to go walking when I go to Hilo. I also like to see my Mom do her Taiko performances. The Hui Okinawa Kobudo Taiko group is pretty active and so if I'm in Hawaii long enough, I can usually catch one of their performances, like the Honpa Hongwanji Centennial parade on November 6.
One of the things I will really miss is visiting the Irvine's house on 974 Ainako Avenue. I loved that house so much. They sold it, and now it's a partial vacation rental property.
I also like going walking when I get back to Albuquerque and getting ideas for xeriscaping.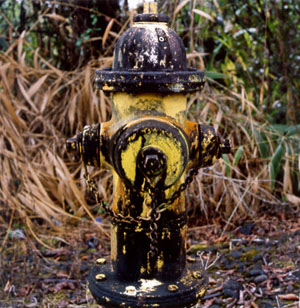 Fire hydrant on Ieie Road, covered in mold.
My parents live not far off of Kaumana Drive. I like to walk along it and check out the plants.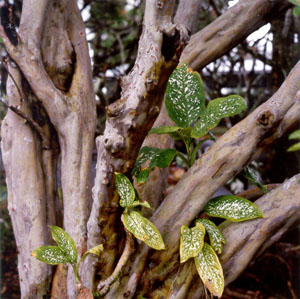 I think this is a guava tree with some other kind of plant attached to it.
Irises on Kaumana Drive

.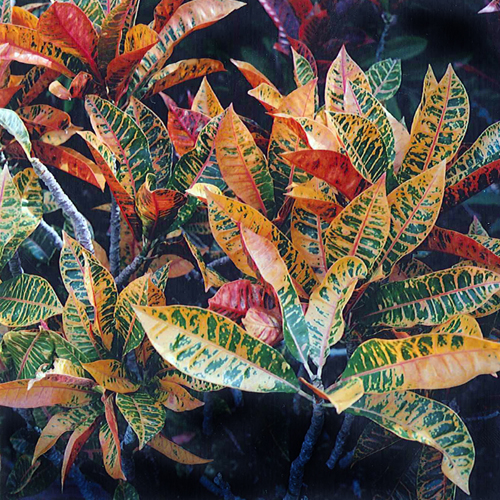 This was taken out at Hakalau, in 2010
Kobudo Taiko Group Performs in Honokaa
| | | |
| --- | --- | --- |
| | | |
| Mom standing on the float in front of one of the group's taiko drums | | The Hui Okinawa Kobudo Taiko performing on a float in the Honpa Hongwanji's Centennial Parade |
How Much My Mom Loves Me
The last day I was in Hilo in February, Mom fried some fish for me to eat before I got on the plane.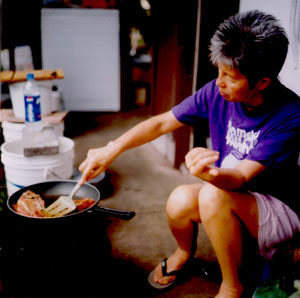 Mom frying mempachi on the outside gas burner.
The Irvines' House at 974 Ainako
I don't think it's an exaggeration to say this was my favorite house in Hilo. It didn't look like anything special on the outside, but inside it was all wood, gorgeous wood. There was a stream bordering the property so no matter when you were there, it always sounded like it was raining.
These lava walls were not original to the house

A detail of the lava rock wall and foliage

.
A large, colorful vase next to the entrance

The upstairs living room fireplace. I couldn't photograph the rest of the room very well, but it had low bookshelves around the windows and was all wood -- wood floors, wooden walls.

A side table in the dining area

I spent many happy hours in this kitchen, hanging out, reading the paper, talking, making ohelo berry jam, listening to the water roll down the stream right outside below the window...

They say for good design you should have at least two sides of natural light in a room. This one had three: a small window below the cabinet helped give this space incredible light.

Here is Sue at the sink, explaining to me that the house is not a museum to Leanne's fond memories, and that she needs to move on and enjoy renovating another house.

A "Batman in the Can" sculpture

The wooden deck overlooked the stream in the backyard.

Isn't this a gorgeous back yard?

The beautiful stream in the backyard, facing mauka.
---
Send comments, suggestions, or corrections to: willow at unm dot edu
All contents © Leanne Yanabu All rights reserved.
Last updated: February 12, 2011