Marinating in Honor Code fluid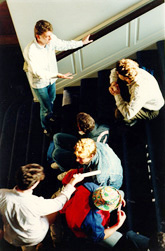 During the annual Plenary and consideration of the Honor Code, the college's philosophical core was revealed most obviously, when we debated at length and passionately. We talked about the social Honor Code more than the academic Honor Code; the academic part was like a job that you did correctly, whereas the social Honor Code was fluid, and more challenging.
At Haverford, part of the "love of wisdom" and the pursuit of wisdom was also about learning how to handle and understand people, as much as it was about understanding ideas or understanding oneself. Being surrounded by beautiful grounds and buildings, and people who had been there for a long time, like the professors, the groundskeepers, the staff, made Haverford a special place to study philosophy. It was all part of what I learned.
Moving to the Fine Arts camp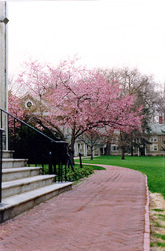 I was a content and happy philosophy major for the first two years at Haverford. I didn't know what I was going to do with philosophy, but I was okay with that. Then, in my junior year, I took a photography course from Willie Williams. Essentially, I became a photography major for the last two years at Haverford. It's hard to explain, but photography really appealed to me and challenged me, and I felt that if I worked at it hard enough, I could do some good work with it.
When I returned from the Peace Corps, I enrolled in the three year Master of Fine Arts program at Southern Illinois University at Carbondale. In the last year there I moved into creating work for the internet. Again, it was hard to explain. I had no predisposition toward the internet but it appealed, challenged, and interested me. I found my niche.
In my spare time, I read, exercise, and surf the web.
Today I am a website developer. I work for Presbyterian Healthcare Services, building and maintaining their website. As an independent contractor, I've designed several websites for non-profit organizations and small companies over the past two years.
Actually, the job of website designer is still evolving. Mostly I format material to upload onto the internet: editing text, cropping and adjusting graphics, figuring out how users will approach the website and arranging the pages into a coherent, navigable scheme.
Just answer the question, please
So why the hell did I major in philosophy?. Now I can ask why the hell did I major in photography? too. And why the hell did I study Bambara?
My answer is, It's good to have had the experience. Even if I never speak another word of Bambara again, I learned skills that I can use when I learn another language. In the same way, graduate photography theory was easier after having studied philosophy in undergrad, and in some cases having read the same texts.
I think it's legitimate to say that studying these things enriched my life. All those philosophy papers where I had to explain a text or line of reasoning, gave me the ability and confidence to write well and explain my ideas. This is a valuable and not entirely common skill.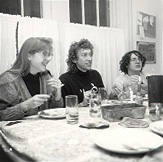 Once in awhile the ocean currents in my brain will cast flotsam from the past onto the sand of consciousness. When I introduced the redesigned website to the folks at Presbyterian, I began with the quote from Heraclitus that you cannot step in the same river twice. Another time, I spent the better part of a forty-minute run explaining to my running partner the story of the cave, from Plato's Republic.
But just as having had a good basic grounding in the way photographs are made, manipulated, and deployed is valuable in this media-saturated world, it has been valuable to have had a basic grounding in ways of thinking and analysis. I especially appreciate having had the opportunity to study not just the classics of Western philosophy but also Eastern and Indian philosophy. I believe that a grounding in Native American philosophy and African philosophy (which I understand Haverford to now offer) would also have been worthwhile.
Still pursuing wisdom
Besides that, I've retained a love of learning. As I go through life, I am interested in the accounts of others going through the same journey. Part of why I am so enamored by the internet is because it offers the possibility of connecting to others and communicating my thoughts to a broad audience. To me it is very much in the tradition of the things I was taught: valuing knowledge, trying to understand others, and accepting experiences as part of the broad work of building oneself.